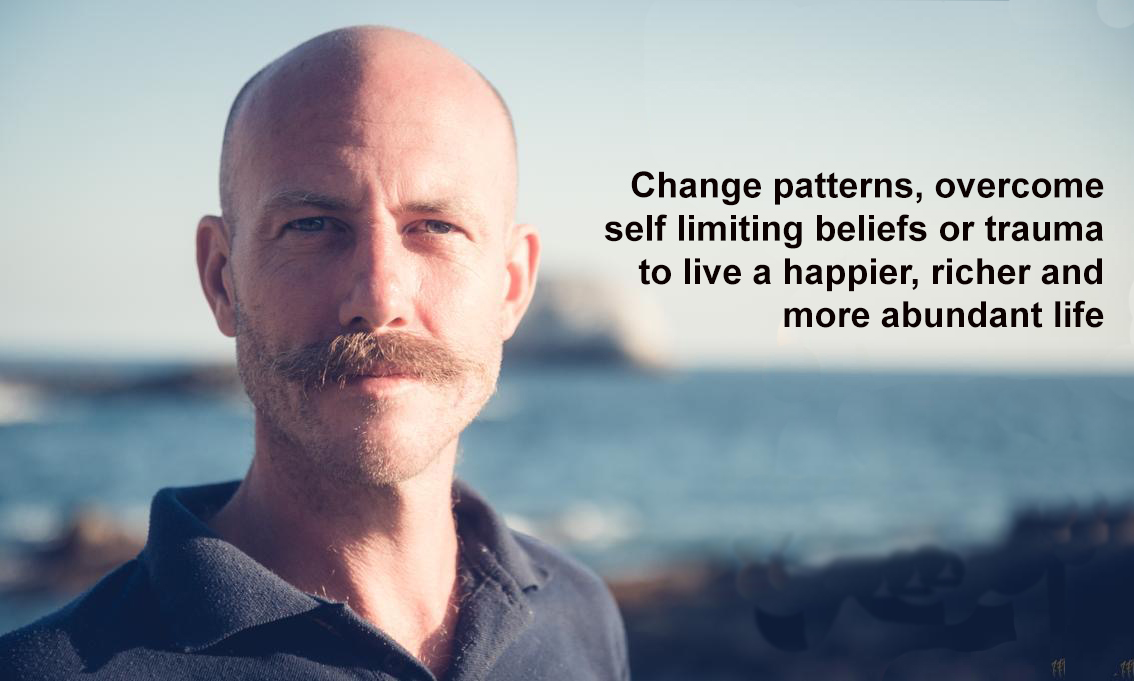 Empowered
Do you keep repeating the same unhelpful patterns?
Understanding why will empower you to make lasting changes.
This trajectory is for people who want to change patterns, self-limiting beliefs and behavior that are holding them back from living a rich and abundant life. 
Duration: Four sessions. First session 2 ½ hours, 1 ½ thereafter. 
Released
Is a life trauma holding you back? 
Taking three steps can release you from the shackles.
This trajectory is for people who want to live life without the negative consequences of trauma permeating and appearing throughout their lives.
Duration: Twelve sessions. First session 2 ½ hours, 1 ½ thereafter.
Connected
Do you want help to stay in the right flow?
Checking in from time to time is often all that's needed.
This trajectory typically follows the Empowered or Released trajectories and serves as a safe moment to reflect on ongoing processes and accountability. 
Duration: We decide mutually depending on what works best for you.
I coach people who want to live life with more love, passion and compassion for themselves and the world around them.
Part of the coaching I offer is a Heart Coherence Meditation.
Benefits of Brain and Heart Coherence are Feeling Whole and in Unity with Yourself and the World, Experience Deep Inner Peace and Increased Energy & Vitality, Decreased Stress and Greater Resilience, Overall Improved Physical Health and an Enhanced Creativity.
Does one of these trajectories feel like it would help you to live a
happier and more abundant life
?
This exercise will help you think about what you want to achieve and whether you are willing to take the steps required. Your answers will only be looked at by me and provide the basis for me to reach out and start our conversation.
About Krien Jozeph
I have endless faith in your ability to find answers to your most important questions, uncover self limiting beliefs and change long standing patterns that stop you from living a more abundant and fulfilling life.
My faith is grounded in more than 20 years experience as a professional life coach, counselor and social-pedagogue. I combine evidence based therapeutic approaches with millenia old holistic techniques from yogic, zen and daoist traditions.
I coach people who want to live life with more love, passion and compassion for themselves and the world around them.
Alongside coaching, my partner and I organize custom-made performance experiences for museums, clubs, festivals, restaurants and network events, Origins: Krien & Merante. We have been resident artists for the infamous fetish Dutch Wasteland events for more than 15 years and, among others, hold residencies in New York with Caravan Gitane, Design Hotels Europe and Aces of Space in Dubai.
In my home country, The Netherlands, I worked extensively with people with high-functioning/high-intelligence Aspergers, ADHD, ADD and PDD-NOS, developmental disorders, differently abled adolescents and adults. I co-founded the social care organisation, Amada ZorgCollectief, an innovative healthcare collective that is based on anthroposophy and positive health. I ran monthly cooking workshops following a GAPs diet for people with Autistic Spectrum Disorder.
I volunteer for Slachtofferhulp Nederland (Victim help Netherlands), an organisation that provides direct help to victims of crimes, sexual and domestic abuse, road accidents, disasters and calamities.
I've traveled, worked and lived in North America, Europe, West-Africa, South Asia and Australia. Each of these experiences has taught me important life-lessons about myself, about people and about our beautiful planet.
Aged eighteen, on a walking trip through the Sahara desert, a childhood friend and I got lost among the minefields of Mauritania before finally finding the last Moroccan army out-post, I was first confronted with fear, thirst and finally acceptance. I became aware of my limitations and where to find the courage to continue.
On a 2000 km (1200 mile) manual scooter trip along the East coast of Australia, to raise funds for a charity project in Nepal, I learnt about brotherhood, setting goals, allowing yourself to fail, pursuing dreams and how to access the depths of my endurance.
During an overland journey from Amsterdam to India and the himalayas and back in an old Mercedes Camper bus, I learnt about the wonders of cultures we never hear about, the misery of corruption and the beautiful relentless optimism of human beings.
All these and many other valuable experiences have shaped me to who I am today and guide me as a life coach and counsellor.
Merante and I are now based in Oaxaca (Mexico), where we are developing an eco-retreat and a safe space for deep trauma recovery. An inspiring place in nature to do the work and come out ready and equipped to face the constantly changing world.
Success Stories
Thank you Krien for the excellent coaching sessions, they have been true eye-openers for me and helped me tremendously! In 10 sessions I was able to let go of my negative response mechanisms, created a solid strategy in accordance with my now more holistic goals, and feel assured to tread this path, kick-started and continuously supported by Krien's guidance.
Krien gets to the core of issues very quickly through his spot-on questions, whilst creating a safe atmosphere. He is a very clear communicator and good listener, with an extensive knowledge of psychology, motivation and powerful leadership coaching techniques (i.a. the Marshall Goldsmith method). The sessions have given me great insights into myself, made me a better leader, and propelled me into a positive meaningful future.
Jay B
CEO, New York
Success Stories
Even though I had not heard of the Threefold Method of Krien Jozeph before, I decided to go for it. And am so truly happy that I did. This coaching trajectory with Krien builds a solid base for a new life! Only 5 months ago I felt very stuck in my life, being tired of my work but not knowing how to quit or transform. Krien helped me to understand myself so much better, to reassess my habits and values, reformulate my dreams, and actively start working towards them. I've picked up a healthy lifestyle, and feel new energy, self-love, motivation and have even started my own new PR agency! If you are looking for a real boost: Krien will give you the perfect balance of support and motivation to set up and reach your (manageable) goals.
I cannot recommend him enough!
Christy L.
PR consultant, Tulum
Success Stories
I would highly recommend Krien to anyone looking for an outstanding life coach! His keen ear, excellent questioning skills and inspiring views have helped me to propel forward in life. As a artist I felt very drawn to him, because of his interesting life experiences and his out of the box view on things. My stagnated creativity and lack of motivation were almost instantly tackled through his positivity and encouraging approach. Besides being inspirational, his method of Self-Awareness, Resilience and Autonomy has been of great help to work on my challenges like creating more structure – something I've always opposed, but now seems to co-exist with my impulsiveness. I feel that now that I've understood recurring patterns in my life, I'm able to break loose and step up my game! I'm pleased with his very reasonable rates and I look very much forward to continue working with you Krien!
Gene C.
Film maker, writer, Topanga, LA
Success Stories
A friend of mine recommended me to get support from Krien when I was going through a hard time.
Krien is an wonderful listener, holding great space in which I felt never judged, but actually confident to talk about difficult issues. Krien helped me gain much more self-awareness (even though I thought I knew everything about myself!), made me truly self-care again, and made it much easier for me to set up clear and especially manageable goals, to move forward and gain trust again. After every session I felt more confident, motivated and empowered. Krien's life coaching has not only improved my personal life majorly, but also my professional life has gained momentum since we started working together. Krien's life coaching has really brought me so much more than I expected: it brought me new and different ways to move forward. Krien, I can't thank you enough!
Katie F.
Culture professional, Amsterdam
Success Stories
About half a year ago I felt I was slowly starting to lose grip on my career and therefore personal life, and I decided to find a life coach. As at that moment I wanted to just drop my career and start all over again, I was attracted by Krien Jozeph's view that a business career and meaning can go together, something I wasn't quite feeling at the time. We've started our sessions talking about my personal values and it was soon clear to me that I needed to give them more attention and reality. With Krien as my coach I've been able to get a clear vision on who I am, what I value and what I want to achieve. Thanks to his patience, knowledgeability, care and drive to change things for the better, I am now working on turning my career in the right direction. I now feel that I'm working towards a better world by taking responsibility for my actions, and creating an active, positive contribution to a better future for all of us. It's incredible how fast things changed, once I decided to work with a life coach. Amazing work, thanks Krien!
David L.
Online marketeer, Tulum
Success Stories
Hereby I want to thank you from the core of my being for the work we have done together over the past few months. We met when I was in a very dark place and many times you have been there as a solid beacon, safe and loving, yet honest and often mirroring more than I liked at that time. (For which afterwards I was grateful of course). The reasons I liked working with you are your quick mind, your capability to get me out of stories and into flow; sharp and focussed to "do the work" with the continuous feeling of being fully supported.
Also you have a talent for asking exactly those questions which made some of my most refined stories collapse so that the core issues I was unconsciously hiding were brought into the light. Your persistence on some topics have opened up my eyes, and more importantly, heart, to some core wounds or developmental trauma. Things I have been always unaware of and later often in denial of. Yet, now at the end of our collaboration, I feel strong and confident enough to continue to embrace, grieve over, and integrate these parts into my life. I know this is a solo expedition, however, I also know whenever I need a co-pilot/navigator somewhere on this journey, I can count on you to walk a piece of this path together again.  
Marco v Z, Mazunte 
Book your free intake session and start investing in yourself